Tea Books Review
My Top Three Recommendations
Reviews written by myself and readers. Which are your favorite tea books?
Recommendation #1:
Book of Tea
Written by Kakuzo Okakura in 1906, this is a tea classic that you will either love or loathe.
It is written by a very good writer, but will only appeal if you are into Oriental history and philosophy.
Unlike many of the tea classics, which are either written by a Westerner for the Western audience, this is an English book written by a native Japanese artist.
No ordinary artist, Kakuzo was one of the principal founders of the first Japanese art academy - Tokyo School of Fine Arts.
Written in 1906, this tea book is perhaps the best loved of English language tea classics. It has been translated to over 30 languages.
It can be purchased from Amazon.com, but can also be downloaded for free.
The Book Of Tea By Kakuzo Okakura (Original Edition) - Free Download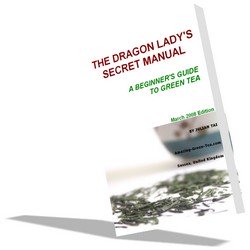 Recommendation #2:
The Dragon Lady's Secret Manual
The Dragon Lady's Secret Manual is a distillation of the best articles from Amazing-Green-Tea.com.
I wrote this book in 2007. So at that time, the focus is primarily on the health and nutrtion aspects of green tea.
I recommend it because it is highly informative and - it is FREE.
Check out my review here:
Green Tea Guide Free Limited Download - Revealing The Secret Manual
Recommendation #3:
The Story of Tea, A Cultural History and Drinking Guide
The Story of Tea is an in-depth look at the history of tea, the tea industry, and the culture that surrounds our favorite beverage.
It focuses on the characteristics that make the tea grown in one region different from the tea grown in another. It is beautifully illustrated with pictures of tea gardens, traditional tea ware, and of course, tea.
However, for a book with such a broad scope, the amount of detailed information it provides is really quite incredible.
The Story of Tea, A Cultural History and Drinking Guide - by Mary Lou Heiss and Robert Heiss
The Little Tea Book By Arthur Gray - Free Download
The Little Tea Book, compiled and written by Arthur Gray, is timeless gem to have around your tea table. It is full of memorable tea stories, culture, history and quotes.
Reading Tea Leaves Guide By Cicely Kent
Reading tea leaves is a piece of cake with this indispensable guide! Telling Fortunes by Tea Leaves by Cicely Kent is a step by step guide to this forgotten art long practiced by the highland seers.
Ultimate Tea Diet Book Review - Does It Work?
The Ultimate Tea Diet is probably the first best seller work created by a fellow tea professional. I picked it up with much anticipation. It left me with mixed feelings.
Burn The Fat, Feed The Muscle Review - Who Should Read It?
There are many weight loss books around, but none of them is as well researched as Tom Venuto's Burn the Fat.
Weight Loss Hypnosis - The Missing Link?
I was initially skeptical about weight loss hypnosis. But Enjoying Weight Loss by Dr. Roberta Temes is excellent.
New! Comments: Like This Story? Leave A Comment!
Share A Favourite
What Other Tea Lovers Say
Click below to read their favourite teas...

Back to Top of Tea Books Review Forum
Back to
Green Tea Forum
Main Page
Back to Amazing Green Tea Home