Tea News
Most Memorable Hall Of Fame
World tea news that will sizzle for years to come. Enchanting stories from around the world to keep you entertained over tea time!
Tea News #6:
Tea pot The Size Of Grain?
"In the great relation of things there was no distinction of small and great, an atom possessing equal possibilities with the universe."
When Kakuzo Okakura uttered these words in the early 20 century, little did he know that a tiny tea pot will be making waves across the globe!
Introducing the world's tiniest claypot - so minuscule that it weighs only 1.4 gram!
Made by Mr Wu Ruishen (吴瑞深), a renowned pot master whose works can be found in museums throughout China.
One of Wu's specialty is handcrafted Zhuni, or red claypot. The exhibition consists of 108 handmade Zhuni claypot crafted by Mr Wu.
The 73 year-old ceramic master comes from Guangdong Province Chazhou's Fengxi. Just like Yixing is famous for making claypot, Fengxi is the center of excellence for porcelain ware.
Source: Guangzhou Ribao. 15 November 2007. Guangzhou, China.
---
Tea News #5:
Want To Play Chess With Tea Leaves?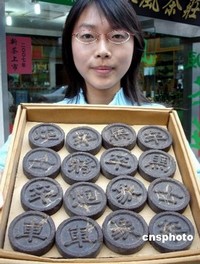 Pu-erh tea is HOT in China! As house and stock prices rise to dizzying heights across the country, this post-fermented tea is breaking auction records.
Here, a woman shows off a Chinese chess set made of pu-erh tea leaves.
Unlike most other types of tea, Pu-erh's value can only rise with time. Antique tea from the 1930's now costs a fortune. So this chess set will last for a long time!
Source: CRI English. 24 October 2007. Suzhou, China.
---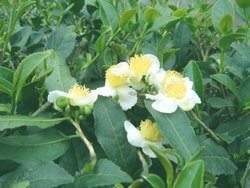 Does the Guinness Book of Records know which is the world's costliest tea?
They recently rejected the Glendale Tea estate's application to be the world's most expensive black tea.
The company makes a Super-Fine Tippy Golden Flowery Orange Pekoe (SFTGFOP) and sold it at 600 dollars per kilogram. The tea plantation is based in Coonoor in Tamil Nadu, India.
This is about 30 dollars for 2 ounces (50 grams) of tea.
The current record holder is the Tieguanyin Tea (the same tea produced by Shen's Iron Goddess tea garden in Anxi), which sold at 3,000 dollars per kilogram.
This is about 150 dollars for 2 ounces (50 grams) of tea.
Vinod Shenai, the group manager, is not happy that black tea is placed under the same category as the Tieguanyin oolong tea.
He complained there is a huge differences between the two types of tea. They cannot be compared under the same category.
Do you know of any tea that is more expensive than the Guinness Book of Records?
Source: Commodity Online
---
Tea News #3:
China's Tea Paradise Top Scenic Poll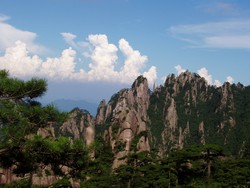 Visiting China is an experience of a lifetime. Avoiding the peak season is a must.
You probably have heard that the Great Wall of China is visible from the moon. Or the hidden Terrocotta Army's palace is grander than the Egyptian's Great Pyramid.
Do you know that the tallest mountain in Eastern China (where it produces the best green teas) is home to 4 of 10 of China's 10 Famous Teas?
Introducing the Yellow Mountain!
A Chinese committee recently voted for the TOP 20 Chinese tourist destinations based on a list of criterions. The Yellow Mountain (Huangshan) ranks supreme.
Taiping Lake, home to Hu's Taiping Houkui green tea, won the Lake Resort Title. The town of Tangkou in Yellow Mountain won the top tourist town award.
Hu's tea will run out very quickly. Next harvest is mid April.
Source: CCTV.com. 19 June 2007.
---
Tea News #2:
Finally! Tea Bubbles Go Pop!
Pay day - what does it mean to you? Does your money go around? Or does it fail to repair the damage made by last month's bill?
When you see your friend making money in double the money faster, you'd get interested, wouldn't you?
That's happening to China right now. Forget about property and stock. The supernovae of the speculation frenzy is TEA!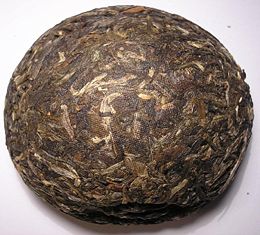 Pu-erh tea is a type of post-fermentation tea. Proper storage enhances its taste and quality.
High quality pu-erh tea is reputed to help lose weight and prevent cancer. Like an antique, its value rises over time.
"The average price of Pu-erh tea soared from 8 to 800 yuans (about 105 dollars) per kilogram in the last 3 years," says Mr Huang Jianzhang from the Guangdong Culture Study Group.
"Tea producers and merchants have bought up large stocks and are hoarding them, giving a false impression of a shortage to push up the prices."
If you want to join in the chorus, think again.
There are more than 3,000 enterprises producing Pu-erh tea in Yunan province. Worryingly, only 59 have quality safety certificates issued by the government.
The most sought after brands are Dayi, Haihe and Xiaguan. But finding them is difficult - there are many fakes.
"Tea shops face the biggest risks since their customers are price-sensitive."
This month, Pu-erh tea prices decline by 10-50%.
Shopkeeper Zhang bought 400,000 yuan a month ago, only to see its value plummet to 288,000 yuans.
"Never, ever believe any of the so-called insiders. One has to equip himself with knowledge about the tea before making an investment. Otherwise, someone like me is forced to be a collector," he said.
Source: Asia Time, 26 June 2007.
---
Tea News #1:
Would You Pay $14,000 Dollars For A Handful Of Green Tea?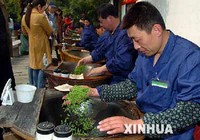 A Chinese man recently pays 14,000 dollars for just 200 grams of Dragon Well green tea.
The auction takes place in the International Tea Expo Exhibition held in West Lake, 180 kilometers away from Shanghai.
10 Dragon Well tea experts show off their roasting skills at the special occasion. They are known locally as the kings of tea makers.
After the tea is picked, it is processed the same day by roasting in a wok. This is done entirely by BARE hands in a hot wok using the celebrated "10 distinct movements".
Aged between 35 to 59, they are all former crowned champions of tea making competitions since 1997.
It is a tedious process. The 10 "kings" can only roast 500 grams in a single day.
The event is about publicity and entertainment.
Real, consumable Dragon Well tea costs much less. HQ's tribute Dragon Well tea goes into Mr. President's cup but still costs only 50 cents a cup!
Source: Dragon Well Tea. 23 March 2007.
New! Comments: Like This Story? Leave A Comment!
Back to Top of Tea News
Back to Green Tea Forum Main Page
Back to Amazing Green Tea Home