Ebooks Download
Here they are, a package worth $60.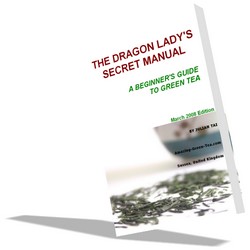 The Dragon Lady's Secret Manual
A Beginner's Guide To Green Tea
The Book Of Tea (Original Edition) - PDF file
Written by Kakuzo Okakura in 1906, this tea book is perhaps the best loved of all tea classics in English language and has been translated to over 30 languages worldwide.
The Little Tea Book (Original Edition) - PDF File
Written and compiled by Arthur Gray in 1903, this ebook is a timeless gem to have around your tea table. It is full of memorable tea stories, culture, history and quotes.
Telling Fortune By Tea Leaves (Original Edition) - HTML File
This indispensable guide to reading tea leaves was written by Cicely Kent in 1922. Learn how to connect the dots from the present to the future by recognizing the patterns formed by tea leaves.
Please note: You must have Adobe Acrobat Reader to view this ebook. If you don't have Adobe Reader, click the link below to get it FREE:

Back To Top of Download Page
Back To Green Tea Newsletter Main Page
Back To Amazing Green Tea Home