Yixing Chinese Tea Pot
Stone Dipper (Zini Shipiao Hu)
A purple clay (Zini) Yixing Chinese tea pot handmade by highly regarded artist Zhu Xinnan. The pot holds 340 milliliters, it comes with 4 matching cups.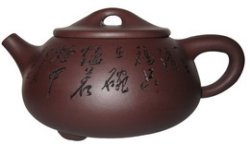 The word "Shipiao" means Stone Dipper. This design is one of my all-time favorite.
It belongs to a style called 古拙, which can be translated as "old and dull". A more meaningful interpretation may be "rustic simplicity".
The shape of the design resembles a piece of stone. Broad at the bottom and narrow on top, it feels stable. The bridge on top is tiny but highly symbolic.
The simpler the design, the harder it is to make. Within the confine of simplicity that potter has to convey a spirit of conciseness, elegance, rationality and captivation.
From this point of view, I think the maker of this pot - Zhu Xinnan (朱新南) has really done well.
It is one of his prize-winning design. It won him a bronze model in the 4th China National Level Artistic Competition.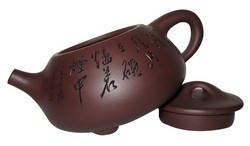 The clay comes from the original clay mine of Yixing County: Huanglong Shan (Yellow Dragon Mountain).
It is a high quality purple clay (Zini) that has been left to weather for 25 years before being crafted.
While a new pot can feel rough, this pot is different. It is very smooth to touch, and gets better with seasoning.
It has a naturally subtle, jade-like luster that can feel warm and friendly with repeated use. It feels a bit like an old friend greeting with a smile.
HQ has an identical pot like this. According to him, even without the initial intensive seasoning, it takes just one week for this pot to acquire high level of smoothness and luster.
This pot comes highly recommended. We really feel it offers rare quality and excellent value of money.
The pot holds 340 milliliters. It is suitable for 4 persons.
It comes with 4 matching Yixing cups.
Calligraphy and Engraving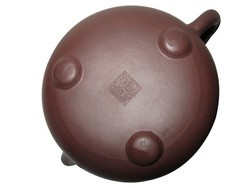 One characteristic of this pot is its large surface area. The body has much artistic value.
The calligraphy has been engraved by highly regarded Senior Engraver Wang Jianzi (汪健字). It says:
一生清福只在碗炉茗烟中
The 11 words express the sentiment of a tea lover, which can be translated as:
A lifetime of ease and carefree exists only in the smoke and steam of tea kettle and tea cups.
You can also find Mr Zhu's seal at the bottom of the pot. The four characters says "Zhu Xin Nan Make".
This Yixing Chinese Tea Pot has 10 holes behind the mouth.
We have tested it according to the guidelines of How to Buy Chinese Tea Set.
You can be sure the lid fits tightly. If you were to fill it with water and invert, no water will spill.
When you let the water go, it will stream out as far as 14 centimeters.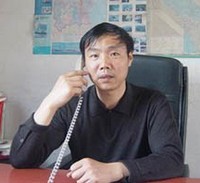 Mr Zhu Xinnan was born in 1957 in Yixing from a long line of potters.
He graduated from the Jiangsu Industrial School in 1980, before taking up apprentice in Yixing Pottery Factory to learn creative design.
He enrolled in Central Institute of Art and Craft from 1992 to 1994. Three years later in 1997, he was awarded "China Outstanding Young Potter".
He went on to specialize in Yixing designs for the last 20 years. In China, he is highly regarded for his non-decorative, classical designs.
He currently has two Yixing titles. One is a National Level Assistant Craft Master (国家级助理工艺师). The other is Craft and Art Master (工艺美术师).
Although there are ten of thousands of potters in Yixing, only a few hundreds can be regarded as masters with official titles. Mr Zhu is one of them, which speak a lot of about his caliber and standing in China.
This tea pot will come with 4 matching cups made from lower grade Yixing purple clay.
The price below also include courier shipping. For US and Western Europe, it will take 5 to 10 days to arrive.
No other shipping charge is payable.
New! Comments: Like This Story? Leave A Comment!
Back to Top of Yixing Chinese Tea Pot
Back to Yixing Main Page
Back to Amazing Green Tea Home