Wuyi Oolong Tea
How It Is Made
Harvesting and making process explained.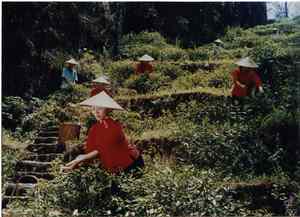 A standard pick is one bud with 3 or 4 leaves when the buds at the top of a bush reach half the size of a mature leaf.
Harvesting can take place three times a year in spring, summer and autumn. But high grade tea grown in the "Middle of the Mountain" is only harvested once a year in spring.
Leaf selection is the most important determinant of quality. Another 5 steps follow:
Freshly picked leaves are left in the sun to dry from 0.5 to 2 hours to remove moisture then moved indoors to cool.
Bruising (Zhuoqing or Yaoqing)
Shake and rub using hands or machines to bruise the surface of the leaves. This exposes tea juices to air and enhances the oxidation process.
Pan-fry leaves at high heat for a short period of time to kill enzymes and stop the oxidation process.
Roll the leaves to shape them into the desired form. The roasting-rolling process is then repeated a second time to further stimulate the flavors.
Apply initial high heat for 10 to 15 minutes to dry. Then apply low heat for 1 to 2 hours to increase the floral aroma and mellow taste
New! Comments: Like This Story? Leave A Comment!
Back to Top of Wuyi Oolong Tea
Back to Wuyi Tea Main Page
Back to Tea Shop Main Page