Huang Guanyin Tea (Yellow Goddess)
A Floral Wuyi Oolong
Huang Guanyin tea from the Wuyi Mountain. A lightly roasted and fragrant oolong, she was harvested in June 2009.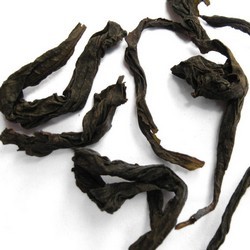 A new arrival to the Wuyi Mountain, she is a hybrid of two teas: Tieguanyin (Iron Goddess) and Huang Jingui (Golden Osmanthus).
Both teas come from Southern Fujian province, where people like to drink their oolongs green and fragrant, with minimal roasting.
Iron Goddess is celebrated for its fantastic aroma, while Golden Osmanthus is remembered for its sweet, honeyed taste. This Huang Guanyin tea marries the two, and being an Wuyi tea, is roasted slightly.
The end result? A perfect blend of fragrance and fire, with a full body and many floral notes.
Would last 3 infusions.
Back to Top of Huang Guanyin Tea
Back to Wuyi Tea Main Page
Back to Tea Shop Main Page