Biluochun Tea (Piluochun)
Dongting and Zhejiang AAA Grade
The finest spring harvested Biluochun tea from the West Dongting Mountain and Zhejiang Province.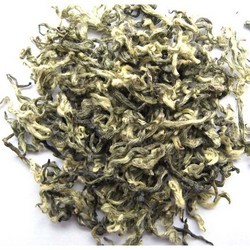 For a long time, I fondly called her the Elusive One.
What's the inner magic of this No 2 of Chinese green tea? I spent three long years looking for an explanation - and failed.
The breakthrough came only in 2008/09 - when we finally discover these two AAA grades. One comes from Dongting Mountain, the other from Zhejiang Province.
In China, tender tea buds are synonymous with quality..
They have the highest concentration of soluble solids. When steeped in hot water, they release large amount of theanine and antioxidants.
What other teas can be more refined and delicate than a Biluochun?
See the picture above? The white patches are downy hairs, often a reliable sign of quality.
One kilogram can have 14,000 to 15,000 buds. It was said that the highest record ever known was 18,000!
This is a tea that you can drink with your entire body, and feel her refreshing effects rippling through all day long.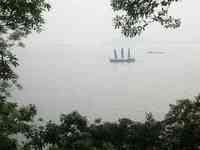 In China, West Lake is regarded as the birthplace of Dragon Well tea, while Dongting Lake is regarded as the birthplace of Biluochun tea.
They are considered the No 1 and 2 of Chinese tea. One is famous for its nutty fragrance - the other its tender tea buds.
The Lake has some 90 islands and is a popular tourist attraction.
There are two mountains. The East Mountain is a peninsula. The West Mountain is an island in the Lake.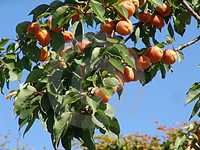 This AAA grade comes from the West Mountain.
The moderate climate, damp air and slightly acidic soil make Dongting Mountain a paradise for growing tea and fruit trees.
Fruit trees and tea bushes grow together, side by side, giving Biluochun tea wonderful floral aroma and fruity flavor.
In China, we say she tastes "xian", a word that is probably best translated as fresh, unami or brothy.
The same word is often used to described seafood. How does fresh seafood compare to stale seafood? You get the idea.
Our testings show just 2 grams of this tea can withstand up to 4 infusions at 195 Fahrenheit (90 degree Celsius). This is the gold standard we expect of an "At The Source" AAA grade.
Every cup is pure and rich. She certainly delivers with ease.
She has been graded AAA because she is the best crop from Zhejiang Province.
Compared with her Dongting sister, she is paler, less fruity, and slightly more tannic when steeped in very hot water.
Am I complaining? Not at all. The tea buds are equally fine and delicate. I love her equally, and I think you will too.
Matthew from Silver Spring rated the Dongting AAA grade 5 out of 5 in May 2009:
After a few weeks of drinking the tea, this is how I can rate them so far:
The 2009 Bi Luo Chun is absolutely a 5 out of 5.
The first pour it reveals a sweetness, the second pour a wonderful astringency and the third pour releases this citrus note that clings to your tongue, like morning dew on the buds of a cherry blossom.
After drinking this tea, I find that my peripheral vision gets clearer. It also fills me with a pleasant amount of energy and calmness.
Marina from East Bridgewater rated Dongting AAA grade 5 out of 5 in August 2009:
Hello Julian!... The tea that I am drinking now is Dongting Biluochun (AAA).
I really love the the Dongting tea - it smells so fresh and sweet when you open the packet) and the flavor is very delicate, it's definitely a "5" for me!
The quality of your tea is superb. One of my friends would like to try drinking green tea for health benefits, and I told her I'd bring her a sample of your tea, so she could start with pure tea of great quality.
I am very happy I found your website and very pleased with teas I've tried so far.
Thank you again!
New! Comments: Like This Story? Leave A Comment!
Back to Top of Biluochun Tea
Back to Biluochun Tea Main Page
Back to Tea Shop Main Page